Since 2004, Next Generation has strived to provide our customers with the best quality custom apparel at prices that work for every budget. Family-owned and operated, Next Generation takes pride in delivering high quality at affordable prices. Our roots in the industry go back to the early 80's providing us with long standing relationships with both our clients and vendors.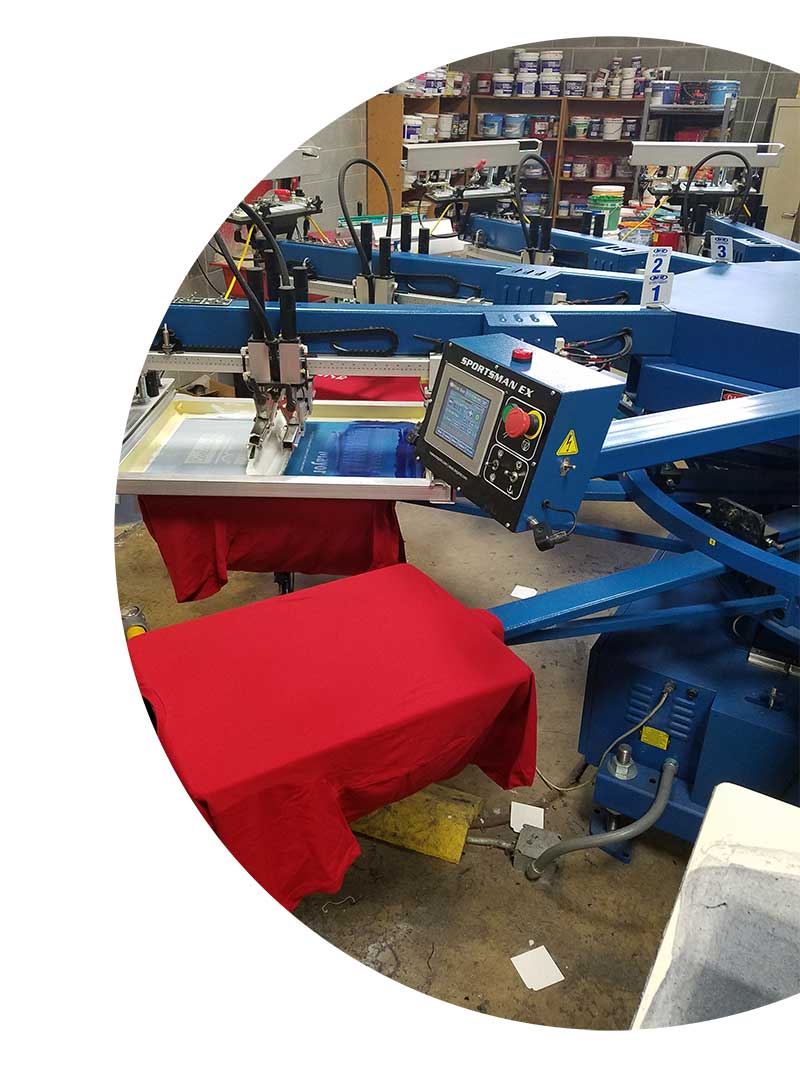 We care about our customers, and it shows... both in the compliments we receive and in the repeat and referral business that our customers have returned to us over the years. From corporations to park districts, schools, hospitals, churches, restaurants, painters, landscapers, charity events, race organizers, teams, bands and even family reunions...thousands have trusted Next Generation to be their source for screen printed and embroidered shirts, and more!
Screen Printing With Virtually An Unlimited Range of Products
The items listed here are just a sampling of the many products available to our customers for screen printing or embroidery. But if you don't see what you want, just ask. We'll be happy to try to find a source for you. The needs of our clients are very different, as are the options and choices available. We also accept most customer-supplied merchandise.
T-Shirts

Basic T's - 50/50, cotton, or other blends
Dry-Fit - polyester, tech, moisture wicking
Short or long-sleeved, ringers, tank tops
Many Fashion forward styles & cuts to choose from

Sweats

Hoodies
Zip Hoodies
Crew Neck Sweats
Pants
Fleece
Many fashion forward styles & cuts to choose from

Golf Shirts / Polo Shirts

Entry level to high end, we'll work with you to find the perfect fit and feel
From jersey knit to pique knit, we provide styles and materials from all the major brands.

Athletics

Soccer jerseys
Baseball jerseys
Basketball apparel
Team warm-up jackets and pants
Mesh clothing
Shorts
Fleece options available

Safety Wear - reflective T's, vests, jackets, etc.
Chef's Wear - aprons and uniforms
Outerwear - jackets and fleece
Headwear - caps, beanies, stocking hats
Bags - totes, athletic, backpacks
Blankets and Towels
If You Can Wear It, We Can Decorate It
Well...almost. There are some limitations, of course, and some fabrics or applications are better suited for embroidery vs. screen printing. But that's where our expertise comes in. We'll always advise you of the best way to achieve your vision. And if we know of a better way to do it, we'll tell you that too. Because, ultimately, we want you to be satisfied with the results.
We Make It Easy
We understand it can be difficult to choose clothing for other people. But with over 30 years experience in this business, we have the knowledge and expertise to guide you smoothly through the process. With our vast network of suppliers, we always know where to find what you want — whether you know exactly what that is, or whether you need our assistance in selecting the best product available to suit your requirements and your budget.